Featured in this issue:
BEYOND BELIEF, an unusual photo feature on the incredible body performances of Torture King swallowing swords and the Impervious Aziza (Sharon Nickle) sandwiched between two beds-of-nails and tieing herself in knots.
FLESH HOOKS: PART 2, photo feature and stories of transformative experiences resulting from fleshook suspensions including Fakir's "Journey to the White Light", "Paul Stolz Flies Like a Bird", and Idexa's vertical suspension "Hindered by Psychic Distractions."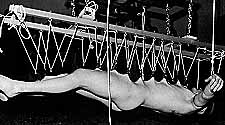 GETTING BODIES MODIFIED, introduction to special doors (shops) that open to friendly places for body modifications -- includes Dark Garden Corsets, Black & Blue Tattoo, Venus Modern Body Arts in New York City.
RESOURCE DIRECTORY.